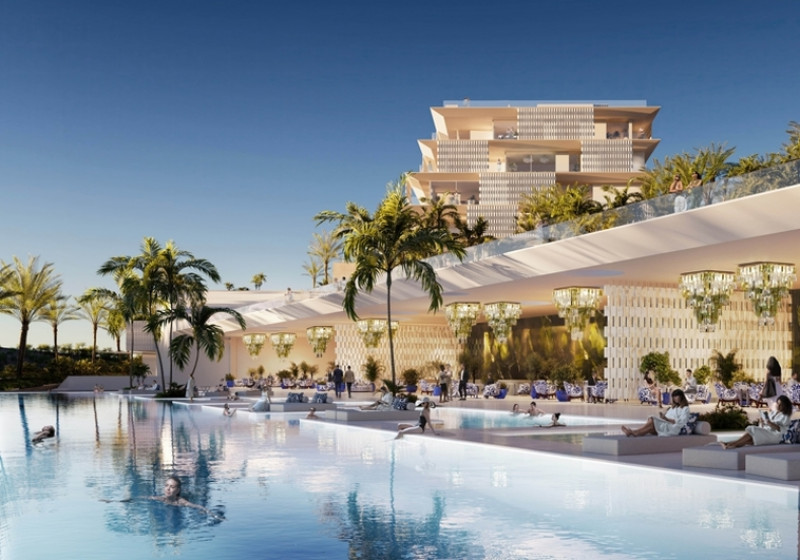 Dolce & Gabbana Brings Luxury Living to Marbella
Dolce & Gabbana Brings Luxury Living to Marbella's Golden Mile
Fashion enthusiasts and real estate connoisseurs alike are in for a treat as the iconic fashion label Dolce & Gabbana ventures into the European real estate market with an exclusive residential project on Marbella's illustrious Golden Mile. In partnership with Sierra Blanca Estates, the design giant is set to redefine luxury living on the Costa del Sol with a sprawling 90,000-square-meter residential development that promises to be nothing short of a "mini-city."

A Fashionable Oasis on Marbella's Golden Mile
This opulent enclave will feature 92 luxury villas, each meticulously designed to embody the hallmark quality and sophistication associated with the Italian fashion brand. Boasting an array of world-class amenities, the site will include a private club, a rejuvenating spa, chic fashion boutiques, delectable restaurants, exclusive private cinemas, and even a dedicated camping area for children.

Luxury Homes Redefined in Marbella

Prospective homeowners can expect nothing less than sheer opulence. The properties, already in high demand with a growing waiting list, are projected to command prices in the vicinity of 20 million euros, according to sources closely involved in the project.

Dolce & Gabbana's inaugural European residential endeavor, aptly named Design Hills Dolce & Gabbana Marbella, will see the construction of these luxurious homes in five distinct complexes, each cocooned by lush gardens and graced with infinity swimming pools. These homes, which offer up to five bedrooms, range in size from 280 to an expansive 900 square meters and come fully furnished with exclusive creations by Dolce & Gabbana Casa.

Visionaries Behind the Luxury
Internationally acclaimed design studios have joined hands with the Italian fashion powerhouse to craft these residences. Leading the creative charge is The One Atelier, with Fresh Architectures overseeing the facades and Storage Milano curating the interiors.


Inside these villas, residents will revel in extravagance. Features include spacious bedrooms with dressing rooms and private bathrooms that offer mesmerizing sea views, massage and makeup rooms, rooftop terraces complete with swimming pools and solariums, staff quarters, entertainment areas, generously proportioned lounges and dining rooms, and even private lifts.


Construction is already underway on the sprawling plot that will house this visionary project. The aim is to unveil the show flat by 2025, with the keys to the first homes to be handed over in 2026.


The development isn't just about the homes; it's designed to be a self-contained "mini-city" offering an unparalleled lifestyle experience. Residents will have access to an impressive array of sports facilities, including padel tennis courts, a state-of-the-art fitness center, an outdoor gym, a boxing ring, meditation spaces, yoga and pilates studios, a golf course, indoor basketball courts, and even Marbella's very first indoor 5x5 artificial grass football pitch.


A World of Indulgence


The complex will also feature its own spa, equipped with a water circuit, a beauty center, a hairdressing salon, and a barber shop. The project's dedicated services team will take care of residents' entertainment needs with a cinema room, a stylish bar, and a cocktail area, complemented by a wine cellar and cigar cellar. Private meeting rooms, a library area, and multi-purpose spaces for hosting private celebrations and events will round out this lavish offering.

In summary, Dolce & Gabbana's foray into Marbella's real estate landscape promises a lifestyle of unparalleled luxury, where fashion meets opulent living on the prestigious Golden Mile. This exclusive residential project is set to redefine the very essence of Mediterranean luxury living.
---